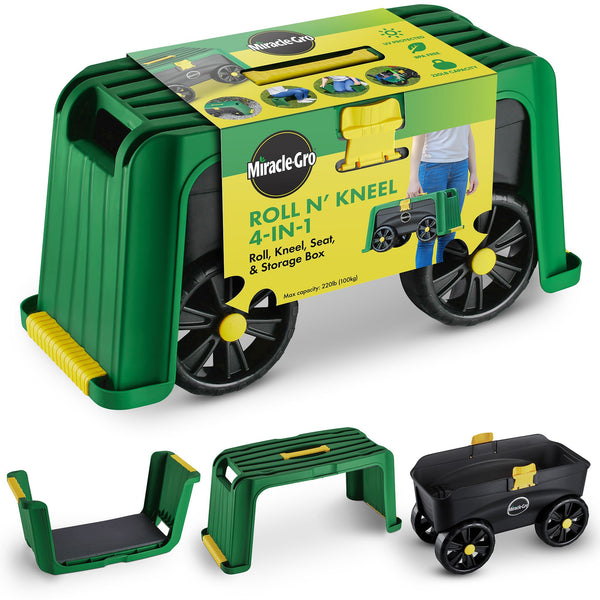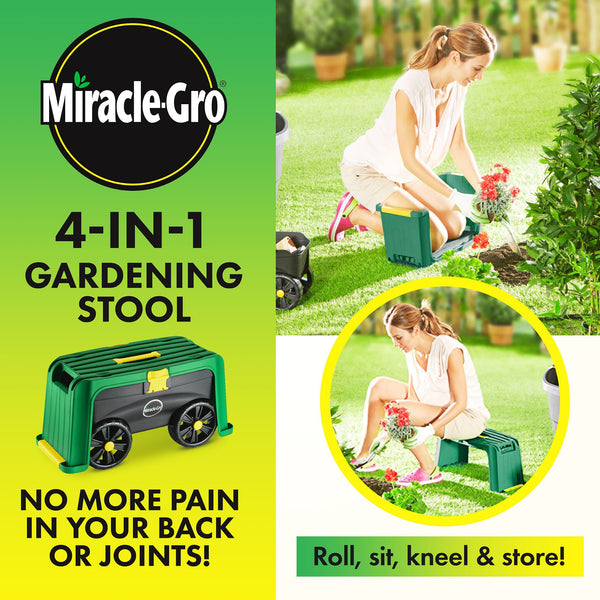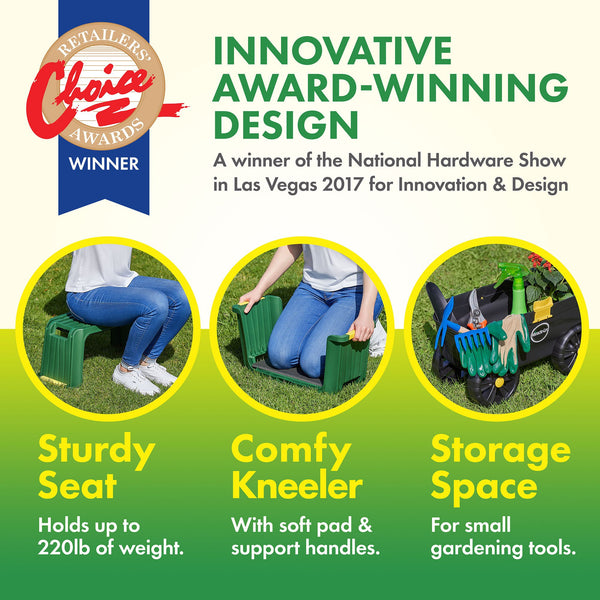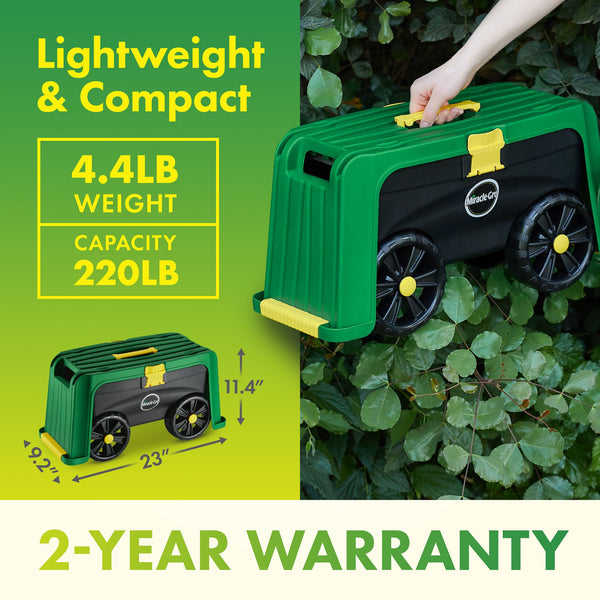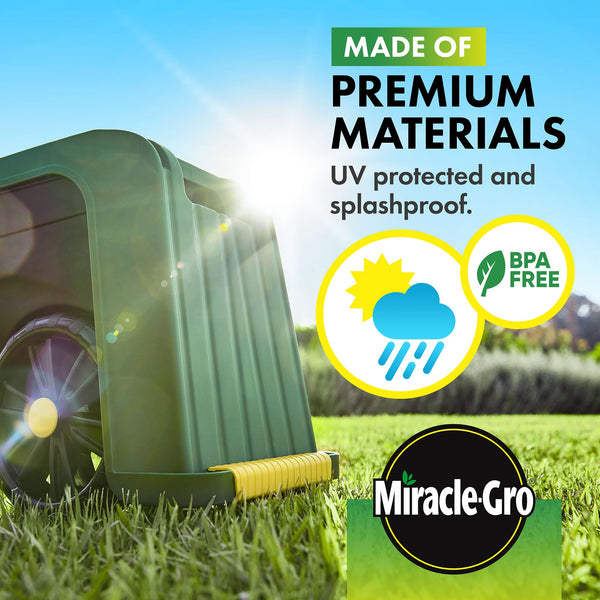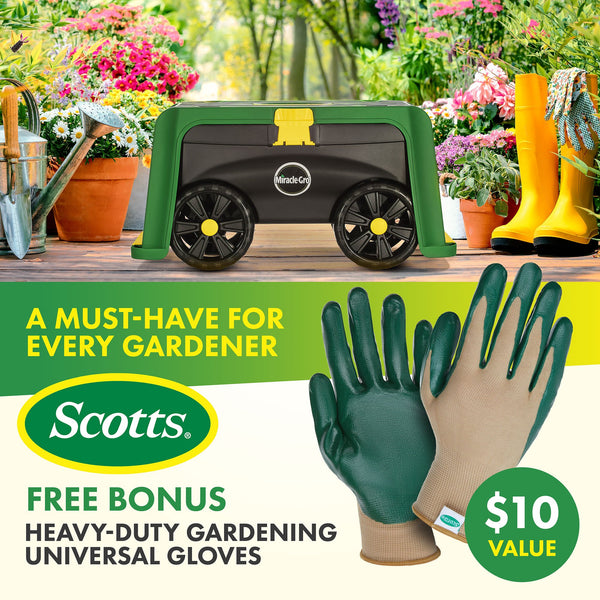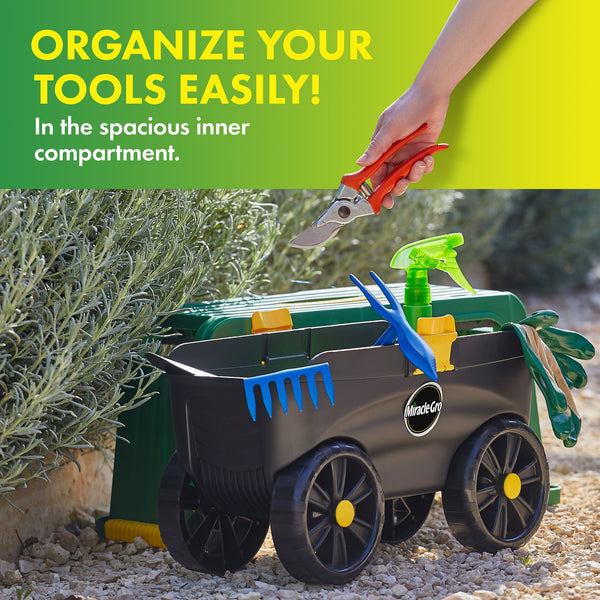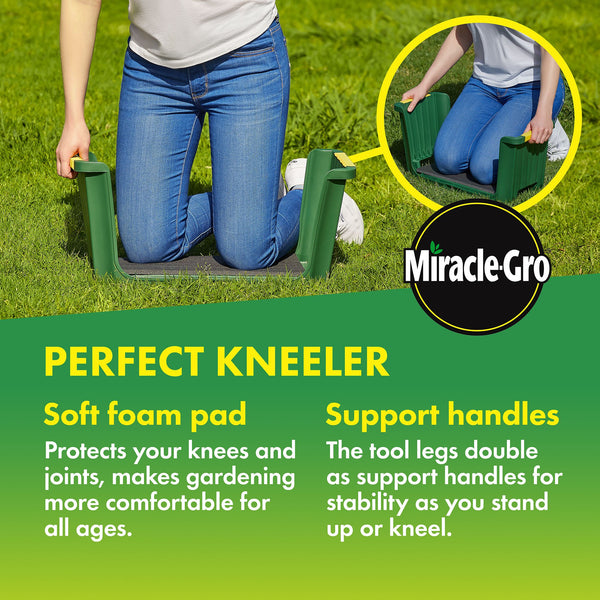 Miracle-Gro 4-in-1 Garden Stool – Multi-Use Garden Scooter with Seat – Rolling Cart with Storage Bin– Padded Kneeler and Tool storage - Accessible Gardening for All Ages + FREE Scotts Gardening Gloves
GARDEN WITHOUT BACK PAIN – You love spending time in your garden, but all that bending over can create lots of unpleasant aches and pains. That's why Miracle-Gro created our 4-in-1 outdoor garden stool. It's here to make your life easier, so you can create the garden of your dreams, comfortably.
4-IN-1 – Finally there's a convenient solution for all of your gardening needs! Miracle-Gro's handy garden cart features a spacious inner storage bin with dual locking sides, a sturdy seat for comfortable sitting, easy rolling wheels, and a soft, gentle foam kneeling pad for when you need to get down and dirty. With your multi-use garden wagon you'll be able to appreciate the great outdoors like never before!
THE EXTRA SUPPORT YOU NEED – Spending all day outside can be backbreaking, even if you're doing what you love! Luckily, Miracle-Gro's garden seat makes digging in the dirt more comfortable for all ages. This lightweight stool offers a convenient seat on 1 side, and flips over to reveal a soft, padded foam kneeling pad to protect knees and joints! Plus, the tool legs double as support handles for stability as you stand up.
BUILT TO LAST – Get the heavy-duty garden kneeler you can depend on with Miracle-Gro. It's weatherproof, outdoor-friendly, easy to clean, and UV protected, so it will never crack, even under constant sun exposure. The sturdy seat can hold up to 225 lbs., and the spacious inner compartment has ample room to store your tools. At just 4.4 lbs., this rolling cart is the multi-use tool that every gardener needs in the shed!
FREE BONUS GIFT – Achieve your garden goals with a FREE pair of Scotts multi-purpose gardening gloves! Each pair is latex-free, water-resistant, and features a no-slip grip, perfect for both indoor and outdoor projects. Grow your green thumb with Scotts and Miracle-Gro!
BACK TO TOP