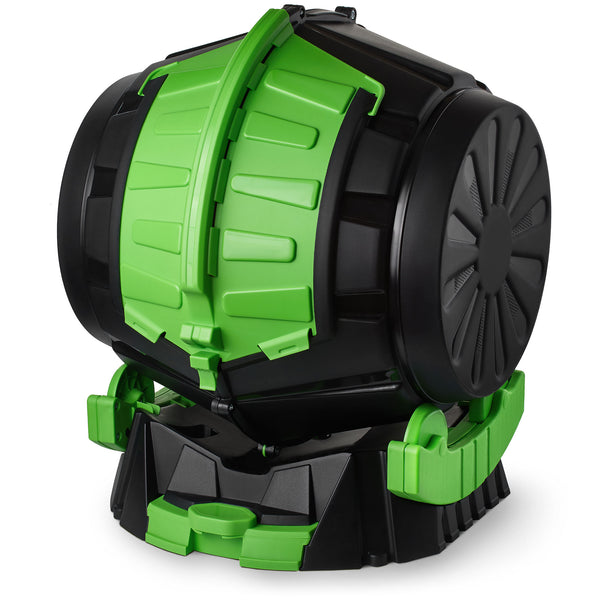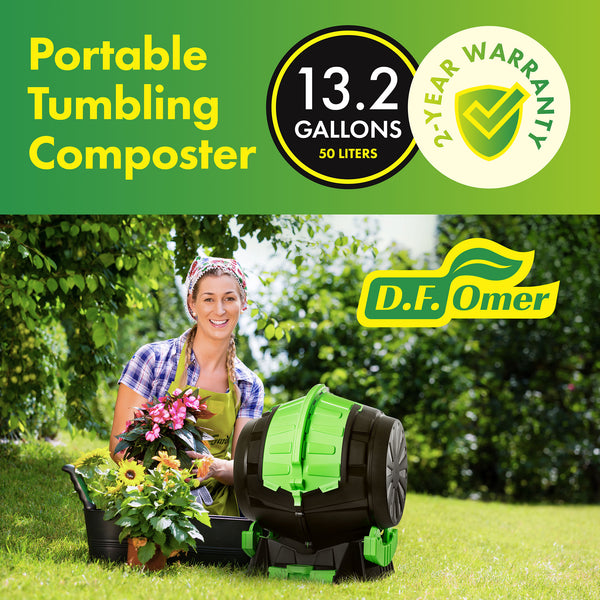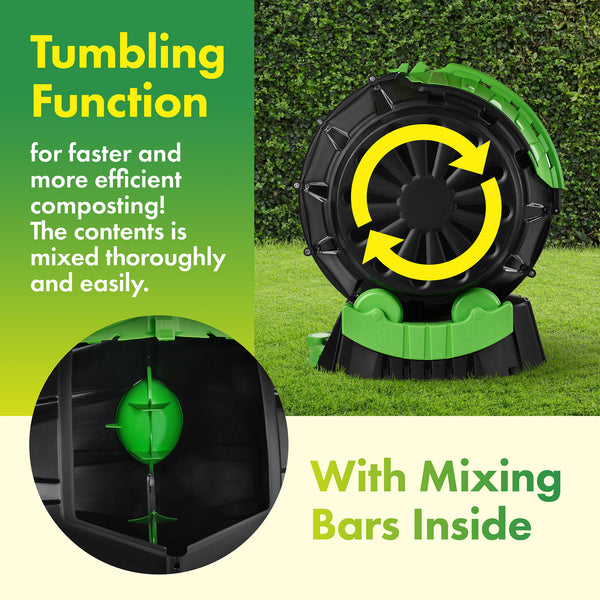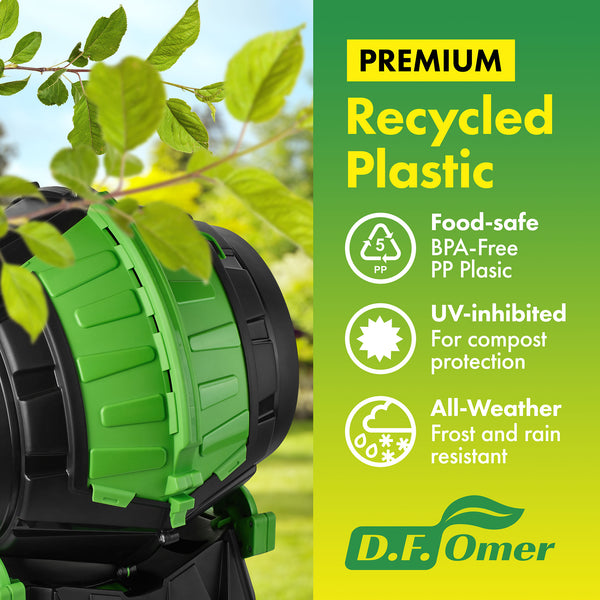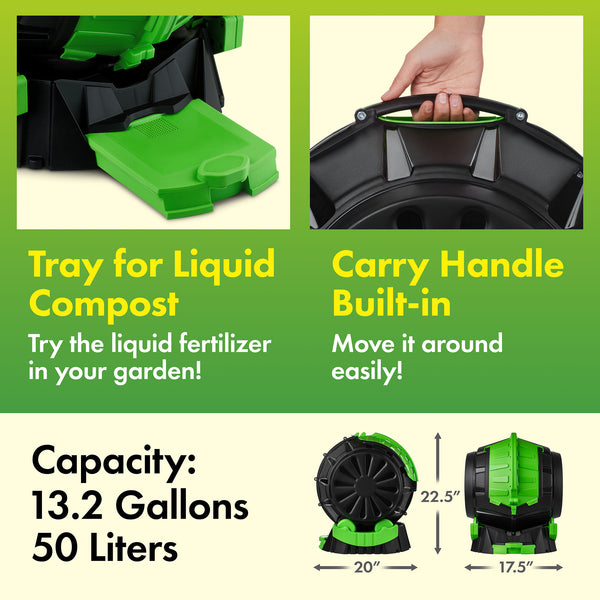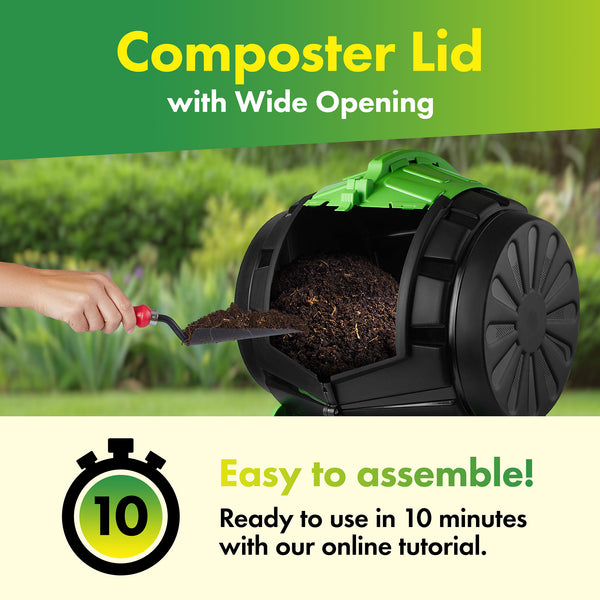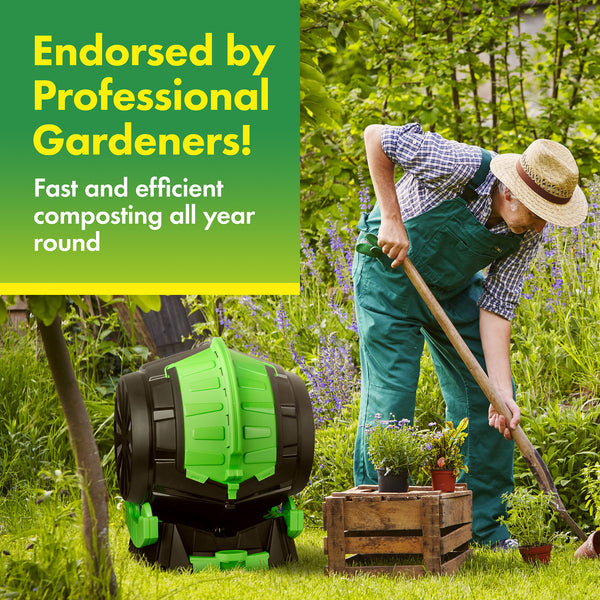 DF Omer 13.2 Gallon / 50L Tumbling Composter | All Season Compost Tumbler | Heavy-Duty Fast-Working Compost Bin - Outdoor or Indoor Use | Get Quick Curing Compost All Year Round DF OMER
EFFICIENT COMPOSTING. With DF Omer 50 L tumbling composter providing your happy garden with nutrient-rich soil turns from a not very pleasant activity into an easy process: tumbling is easy, and the built-in mixing bars speed the decomposing process up. No wonder professional and amateur gardeners alike praise our outdoor composting tumblers!
SMART DESIGN. We did our best to make sure that for you composting will become a rewarding experience with no obstacles whatsoever. The composter lid with wide opening ensures easy access, a special tray allows for producing liquid compost, and a built-in handle lets you move the compost bin around with less effort.
DURABLE AND SAFE. Our compost tumbler is not only easy but also safe to operate. The recycled plastic that we use to build outdoor composting bins is BPA-free, food grade, UV-protected, toxin-free and frost-resistant. DF Omer is well-known for the high quality of its products, and we offer a 2-year warranty on all our products. They are built to last.
NO EFFORT FROM YOUR SIDE. Producing fertilizers for your lovely plants can't get any easier. With our online step-by-step instruction, anyone can assemble this composting bin and make fertile soil. Simply read our detailed directions. No additional researching, digging, or hand mixing is necessary: just fill the compost bin with organic waste, spin the tumbler occasionally, and enjoy your garden.
UPGRADE IF NECESSARY. Create even more "black gold" for your home-grown veggies, fruits, and flowers! Get another DF Omer 50 liter / 13.2 gallon tumbling composter, and you will be able to get rid of new food scraps and other waste adding it to one outdoor compost bin while letting the content of the other one cure.
BACK TO TOP